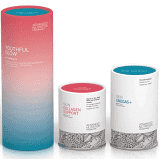 This supplement synergy of SKIN OMEGAS+ and SKIN COLLAGEN SUPPORT provides a solution for anyone looking to elevate their anti-ageing routine with skin supplements. Designed to support your skincare strategy for a youthful glow from within.
SKIN OMEGAS+ 180 size
Our Experts have fused together omega 3 and omega 6 fatty acids with vitamin A to create a specialised, sustainable skin-glowing supplement for notable benefits to skin hydration, smoothness and wrinkle depth. Certified by Friend of the Sea, Skin Omegas+ use only omega-3 fish oil sourced using sustainable methods that conserve both marine habitats and resources. Our actives are encased in a golden softgel derived from fish gelatine, easily digested in natural triglyceride form and free from unpleasant, fishy smells or taste.

SKIN COLLAGEN SUPPORT 60 size
As we get older our skin loses its elasticity and production of collagen decreases. Harnessing the synergy of five ingredients, this supplement helps to build and safeguard collagen helping to activate your internal supply levels for supple, younger-looking skin from within. These plant-based capsules are packed with a clever cocktail of vitamin C, zinc, MSM, grapeseed extract and melon concentrate which is rich in super antioxidant SOD - these ingredients have over 150 studies attributed to the effectiveness of ingredients on skin.
Consultation is always advised before purchasing Advanced Nutrition Programme.